Commercial Roofing Services From the Experts
When you replace the roof on your commercial building, you want to make sure you're working with people you can trust to get the job done right and who will stand behind it. At Lankford Roofing & Construction LLC we understand the unique issues building owners and managers have to consider. We can install a number of different roof systems tailored to meet your building's needs. Whether it's EPDM (rubber), TPO, PVC, shingles, or synthetics, we have the expertise to guide you through the roofing process. We'll work with you to design a commercial roofing system that will best fit your needs.
Some of the Roofing Systems we offer:
TPO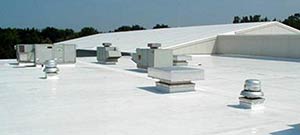 TPO roofing is an ideal commercial roofing system because it is reliable, cost effective, easy to maintain, environmentally friendly, and easily conforms to numerous roofing situations. Lankford Roofing & Construction LLC provides TPO roofing systems for both new construction and roof replacement.
Modified Bitumen Roofing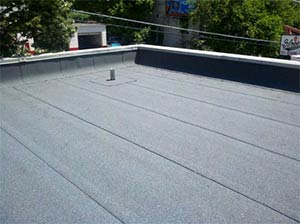 A modified bitumen roof is an asphalt that has had modifiers added to give it plastic or rubber-like properties. It blends the reliability of time proven hot asphalt-applied built roofing systems with the modern benefits of flexible plastic additives and polyester/fiberglass reinforcement roofing technology. Modified bitumen membranes are attached to the substrate by hot asphalt, heat fusing or cold-applied adhesives to form a strong, flexible, puncture resistant material. These roofs have proven performance on commercial, industrial, and residential applications.
Built-Up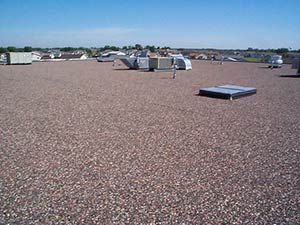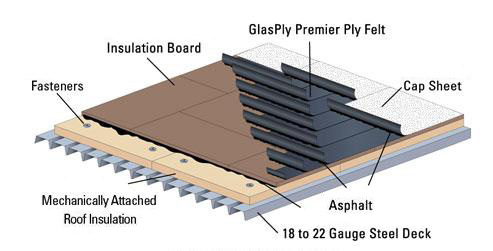 Built-Up Roofing (BUR) is a centuries old method of protecting flat and low slope commercial roofs. A built-up roof consists of two or more plies of fiberglass-reinforced felts saturated with bituminous materials. The repetitive layers give it exceptional resistance to weather and water. We also use more advanced substrate materials to minimize environmental impact while delivering an even longer lasting roof.
Standing Seam Metal Roofs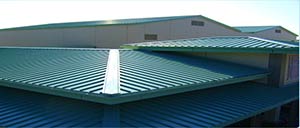 Standing seam metal roofing has a long history of success in the Texoma region. Lankford Roofing & Construction LLC offers the very latest in metal roofing systems, featuring advanced coating technologies that virtually eliminate rust while providing an array of colors to choose from. A metal roofing system is among the most durable you can install, with a service life that is often warrantied for 30 years or more. Lankford Roofing & Construction LLC can design and fabricate an entire standing seam metal roof from start to finish.
Composition Shingles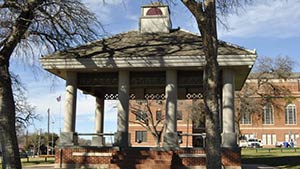 Composition shingles are the most economical type of roof system and also the most common on a steep-sloped roof. They are typically made from asphalt and fiberglass and are a stylish architectural style of shingle with a three dimensional look. Composition shingles offer a variety of options and styles to choose from. Warranties usually range from limited lifetime or Class 4 Impact Resistant. The biggest downfall of composition shingles are their vulnerability to wind and ice damage and their relatively short life-span.
Stone-coated steel roofing Systems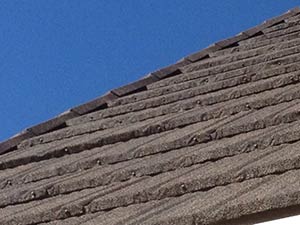 Stone-coated steel roofs can often resemble a traditional tile or wood shake shingle, however, there are huge differences. A stone coated metal roof is made by attaching stone chips to steel with an acrylic film coating. This creates a more durable roof that maintains the advantages of traditional roofing materials. The roofs are made to withstand the harshest of climates. They are made in a variety of designs and colors and offer many benefits. Some of these include excellent fire resistance, the highest hail rating in the industry, ability to withstand high wind speeds, extreme protection from weather and UV rays, lightweight, environmentally friendly, premium curb appeal, and very little maintenance.
We also offer full service maintenance programs and budgetary analysis in Denison TX, Grayson County and surrounding areas to all of our clients at no charge. Find out how we can work with your business to provide any roofing needs you may have. Just a few of the well-known businesses we've worked with are Pizza Hut, Dominos Pizza, First United Bank and Fossil Creek Liquor. Contact us here!