Lankford Roofing & Construction, LLC: Top Quality Metal Roofing You Can Trust
Here at Lankford Roofing & Construction LLC, we take great pride in setting the industry standard for metal service. That's why we offer a wide range of sheet metal products for residential and commercial roofing, as well as wall panels, gutters, and awnings. Our sheet metal fabrication shop allows us to provide internal quality control of all sheet metal products we install. In the last couple years, metal roofs have become very popular for homeowners and businesses. While the cost of a metal roof is more expensive than an asphalt shingle roof. A metal roof increases the value of your property and typically provides a discount on your homeowners insurance.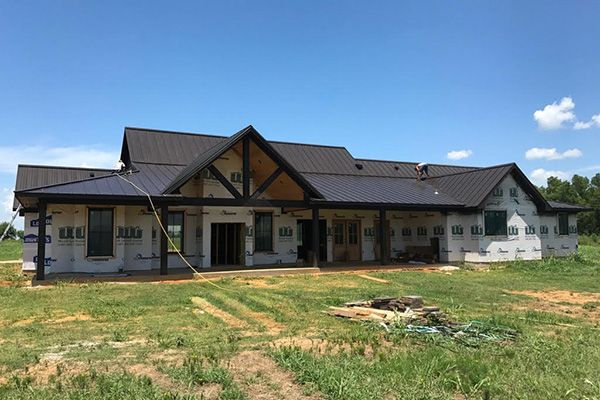 A metal roof is one of the most durable roofing products available. They are much more resistant to weather damage from the wind and hail. Also, studies show that the metal roof reduces energy costs and keeps homes cooler in the summer by reflecting heat away and warmer in the winter by reflecting the heat back into a home. There is a wide range of styles and colors to choose from to help beautify your home. Here at Lankford Roofing & Construction LLC, we are an experienced roofing contractor who serves both residential and commercial customers.
We Partner With Industry Leader Metal Warehouse Inc.
Our sister company, Metal Warehouse is a leading manufacturer of quality metal products in North Texas and Southern Oklahoma. Like us, customer satisfaction is their number one priority as they provide solutions to various metal building needs. Thanks to our partnership, we are able to offer you the highest quality in:
Complete lines of metal building and steel building systems
Galvalume and Pre-painted Galvalume 26 gauge steel
Steel Buildings
Red Iron Steel
Trim
Accessories, including fasteners, caulking, seal tapes, and roof jacks
We offer competitive rates on these metal products and services no matter how small or large your project may be. You can also expect the highest professional workmanship, backed by stellar warranties for your peace of mind. Indeed it is a partnership designed to deliver the best metal service for your property.