Improve Your Building's Weather Protection with Our Modified Bitumen Roofing
Commercial roofs are extremely important to businesses—they protect entire structures from intense weather conditions to make sure daily operations go on according to schedule. If you're planning to replace your old commercial roofing type, you have plenty of options. One of the most popular commercial roofing type today is modified bitumen. An asphalt-based material, it's designed for low-slope structures and is proven to be the among the strongest and longest lasting options on the market.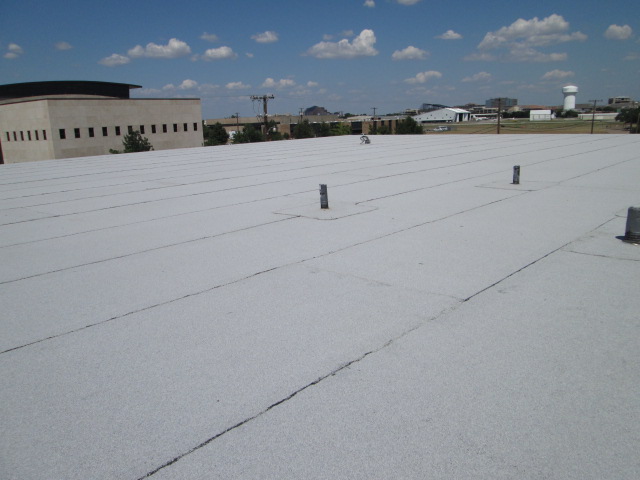 Modified Bitumen Roofing systems combine exceptional strength against foot traffic and are puncture resistant against hail and abrasion. The combination of a reinforced fiberglass sheet and white coated granular surface make this roof system one of the most durable yet energy efficient roofing products available. This roof application provides outstanding durability and reflectivity. It is an ideal product for buildings such as restaurants, stores, and warehouses where foot traffic is often required on the tops of buildings. Modified Bitumen offers long term durability against all elements from severe cold to extreme heat. The roofs are built tough to last and perform for many years.
Lankford Roofing & Construction LLC is a trusted commercial roofing contractor serving Sherman, TX, and the surrounding communities. We use only the finest roofing materials and ensure top-quality workmanship with our roofing experts. Regardless of the size of the project, our team at Lankford Roofing & Construction LLC can handle and complete it efficiently.
Valuable Features of Modified Bitumen Roofing
Modified bitumen first became popular as a commercial roofing option in the '70s. It's referred to as "modified" because of the addition of plastics and rubber polymers to the asphalt component that combines that material together. It's also made up of glass or polyester fibers that provide the durability of modified bitumen.
There are a lot of things that make this roofing type an excellent roofing option, including:
Strong Properties – The specific processes involved in the manufacture of modified bitumen make it one of the strongest materials available. It remains in good condition even when exposed to both hot and cold temperatures. It has elastic properties, making it greatly resilient to any condition that may afflict it.
Proven Quality Cost-Effectiveness – Since modified bitumen is factory-prefabricated into sheets, the material exudes uniformity in looks and consistency in performance.
Cost-Effectiveness – Modified bitumen is amazingly easy to install, making it a cost-effective option for your commercial roof.